News
Stella McCartney 'blown away' by Macca's legendary Glastonbury gig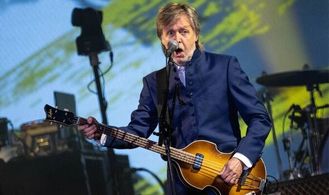 The successful fashion designer admits she is "one of his biggest groupies" and is still "blown away" by his energetic performances and musical ability.
Stella McCartney, 50, also opened up about her 80-year-old father's Glasto gig, which many considered the greatest set of the weekend. She also told how another musical icon once confessed he was "jealous" of Sir Paul's talent.
She said: "I'm probably one of the biggest groupies of Paul McCartney. I've seen him play many, many times.
"But I never take it for granted.
"Every time I watch him, I see something new.
"I'm blown away more and more by his ability to be this true, natural, raw, musical talent.
"You forget that dad has maintained this incredible voice throughout his career. He has never gone up or down an octave.
"It is so unaffected, real and honest - and that is very rare.
"He can be so pure with his voice... and belt it out. I love that variety vocally.
"Not only has he written so many iconic songs, but he plays the drums, the guitar, piano, he does so much."
She revealed: "I remember being in a tiny little gig in Camden that dad played many years ago. I was sitting with Dave Gilmour and I looked at him and said, 'Dave, what are you thinking about when you watch dad play?'
"He just looked at me and said, 'I'm just so jealous. It's just so effortless'. I saw it through Dave's eyes and realised that when you watch dad play, he's like this vessel for some higher being. The music just passes through him."
One of her favourite tracks is Macca's tribute to his former Beatles bandmate John Lennon, called Here Today. Stella said: "It's like a letter to John.
"The song he wished he was able to verbalise while John was still alive. It is heartbreaking.
"Dad just about keeps it together. Not only is he standing up there on his own and completely exposing himself as an artist, but he's singing about his best mate."
Macca dueted Beatles song I've Got A Feeling with Lennon at Glastonbury - performing alongside 1969 video footage.
Stella says film shows the world that The Beatles' chemistry was unbreakable.
"It was only ever love he felt in the relationship with the guys with the band," she said, speaking on Sirius Xm's The Beatles Channel.
Stella admitted she also jokes with her father about penning a hit about their relationship, given he has written so many about others close to him in life.
Source: msn.com
Added automatically
46 views