News
Adele tops most popular act poll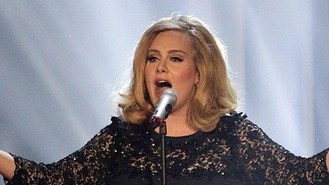 Adele has topped a poll of Britain's most popular acts, with an estimated 730,000 fans rating her their number one artist.
Music lovers spent more than £36 million attending her performances and buying her merchandise between 2011 and 2012, data showed.
The figures were released after the singer's album 21 outsold Michael Jackson's Thriller this week, becoming the fifth biggest-selling album of all time in the UK.
But Take That's fans outspent Adele's last year, splashing almost £40 million on live shows and merchandise, the report by ticket marketplace StubHub found.
The reformed boy band boasted 700,000 "passionate" fans - the same number who voted Coldplay their favourite act.
But Coldplay fans poured less money into the band's coffers, supporting their musical heroes to the tune of £15 million last year.
Pink and the Foo Fighters came in at joint fourth with a projected 400,000 passionate fans, pushing Rihanna into sixth place with 370,000, who together splurged more than £11 million on her.
More than half (53%) of Britons aged 16 to 54 said they had a "passionate" attachment to one musician, band, playwright or sports team, while 20% said they dedicated more than half their available leisure spend to following their favourite act. On average, they spent more than a thousand pounds (£1,168) and travelled more than 1,000 miles a year following their idols, the research showed.
But while Londoners were found to be the biggest live event-goers, attending events or seeing performances on average 29 times a year, they were the least likely to declare themselves "uber-fans" of any particular act.
Instead, Glasgow and Liverpool boasted the most dedicated fans, with 30% and 27% respectively saying they spent the majority of their spare cash on their favourite band, singer or team.
Source: music.uk.msn.com
Added automatically
1116 views