News
Ozzy: Things always get messed up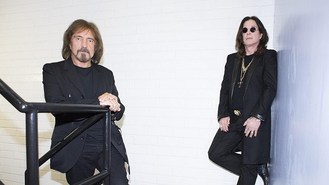 Ozzy Osbourne has revealed the hardest part of Black Sabbath's reunion was getting all the rockers in the same place at the same time.
The band's new album 13 reunites original members Ozzy, Tony Iommi and Geezer Butler for the first time in 35 years, but the frontman admitted it was tough to get it off the ground because things kept getting "messed up". During their latest attempt to reform, drummer Bill Ward left the band over a contract dispute, guitarist Tony was diagnosed with lymphoma and Ozzy began to drink again.
"Things always get messed up," said the singer, who was originally fired from the group in 1979. "Like Bill had the heart attack on one (in the late 1990s). When Tony got stricken by cancer, we went 'This is... insane.' But he turned up every day."
The star confessed the band felt pressure to get their record out.
"We all thought that if we don't get our march on with this thing we're going to be ... dead, by the next time we could all be ... dead. So we had to really march on with our project. We couldn't wait."
He went on: "You know the thing (that) is the easiest part of getting the reformation of Black Sabbath is just saying, 'Yeah, we'll do it'. The hard part is getting us in one place all on the same day playing our stuff. If Tony Iommi can be treated for ... cancer and turn up to rehearsal and come up with great riffs, it's not fair that any one of us don't come up to the bench, you know?"
The 64-year-old, who has been married to wife Sharon for more than 30 years, also had his struggles during the recording, as in April he confessed that he had fallen off the wagon. Ozzy is now sober again.
"It's just one of them things - I'm an alcoholic," he said. "And the most unnatural thing for an alcoholic is not to drink. So every now and again I'll just go and have a few drinks. But it catches up with you and bites you in the butt, you know? I mean Sharon has been living with me for 33 years, and it just (messed) the family up again. My son has got 10 years of sobriety. So I'm trying one day at a time, you know?"
The band's album is currently on course to be number one.
Source: music.uk.msn.com
Added by AutoAdmin
562 views