News
Beyonce defends Challenger sample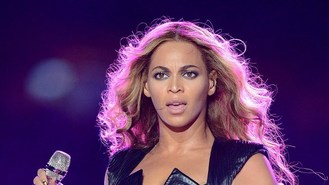 Beyonce has defended her decision to sample audio footage from the 1986 Challenger space shuttle disaster in a track on her new album.
The singer - who released her "surprise" fifth album online just before Christmas - has faced criticism for using a recording of an ex-NASA public affairs officer on her song XO.
Beyonce said in a statement according to news.com.au: "My heart goes out to the families of those lost in the Challenger disaster. The song was recorded with the sincerest intention to help heal those who have lost loved ones and to remind us that unexpected things happen, so love and appreciate every minute that you have with those who mean the most to you.
"The songwriters included the audio in tribute to the unselfish work of the Challenger crew with hope that they will never be forgotten."
The song is about a girl in a relationship and includes lyrics like "I love you like XO, you love me like XO, you kill me boy XO." It was written and produced by Ryan Tedder and Terius Nash.
Beyonce was born in 1981 in Houston, home to America's National Aeronautics and Space Administration (NASA).
Seven astronauts died on January 28, 1986 when the space shuttle Challenger exploded 73 seconds after lift-off.
In a six-second audio clip at the start of the song, NASA's public affairs officer at the time, Steve Nesbitt, is heard saying: "Flight controllers here looking very carefully at the situation. Obviously a major malfunction."
The widow of Challenger Commander Dick Scobee, June Scobee Rodgers, issued a statement about the use of the audio on behalf of the Challenger Centre for Space Science Education, an organisation formed by the families of the astronauts in the their memory.
"We were disappointed to learn that an audio clip from the day we lost our heroic Challenger crew was used in the song XO. The moment included in this song is an emotionally difficult one for the Challenger families, colleagues and friends. We have always chosen to focus not on how our loved ones were lost, but rather on how they lived and how their legacy lives on today," she said in a statement posted on NASAWatch.com.
Source: music.uk.msn.com
Added automatically
16510 views