News
Santana meets homeless ex-bandmate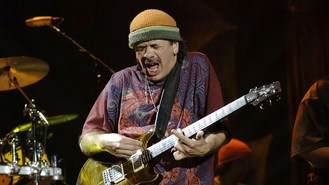 Rock guitarist Carlos Santana has been reunited with a former bandmate he had not seen in decades and who now lives on the streets.
Stanley Roberts, a reporter for a San Francisco TV station, ran into percussionist Marcus "The Magnificent" Malone in Oakland, California, while working on a story about illegal dumping, KRON-TV said.
Although he was initially sceptical of the homeless man's claim that the Santana Blues Band got its start in his mother's garage in the late 1960s, Mr Roberts checked out the story and confirmed it. Then he took Santana for a surprise visit to the camper where Malone has been staying.
"You don't know how afraid I am to let you see me," Malone said softly after he and the Rock and Roll Hall of Fame artist embraced.
"We cherish you," Santana replied. "It's an honour to be in your presence."
Santana has credited Malone with being an important influence on his Afro-Latin sound, according to former Rolling Stone magazine writer Ben Fong-Torres' book Not Fade Away: A Backstage Ticket To 20 Years of Rock & Roll.
Malone played congas on Santana's eponymous first album, but left the band in 1969 shortly before its seminal performance at Woodstock when he was imprisoned for manslaughter, according to Mr Fong-Torres.
The two men told Roberts they had not seen each other since then. During their meeting, Santana promised to bring Malone a set of congas and to help him get on his feet.
Since the story was shown, another original member of the Santana Blues Band, percussionist Rod Harper, and producer Bobby Scott have also expressed interest in reuniting with Malone.
AP
Source: music.uk.msn.com
Added automatically
1245 views