News
Magic Numbers' acoustic rediscovery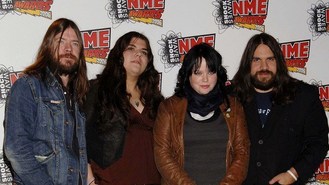 The Magic Numbers have told how their recent acoustic story literally became a journey of rediscovery for them as they found new sides to their music.
The indie rock band - made up of brother and sister pairings Romeo and Michele Stodart and Angela and Sean Gannon - recently rearranged their music for an all-acoustic tour of the UK.
Angela revealed: "We were blown away actually, because we rearranged some of the old songs and stuff and the crowds were great. It was going around the UK to a lot of venues we'd never been to before, a lot of seated venues and little churches and we were blown away by the response.
"We've definitely taken a lot from it, we're going to mix it into the rock show, and the acoustic show, so you'll get a lot more of that in 2014."
Michele admitted the acoustic arrangements brought out new sides to some songs. She added: "It turns it on its head a little bit for us, and I think as a band it was a really good thing to do. As a musician you're always learning and it really helped to build on different things within the band."
Romeo added: "You also learn a lot about the arrangement, and how some songs stand up with minimal accompaniment and some need to be fleshed out. It was interesting for us and a good way to debut new songs."
The band have made a cameo in the new Harry Hill Movie, running a bed and breakfast in Blackpool where Harry stays with his Nan, played by Julie Walters. They perform a comedy song they wrote especially for the film.
But they insisted they will "definitely not" be putting the song on their fourth album when it is released next year.
Michele said: "That is for this film and this film only!"
Source: music.uk.msn.com
Added automatically
1200 views