News
Albums are 'reinvention' for Swift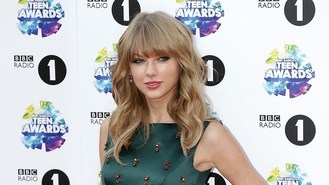 Taylor Swift has revealed that her fifth album will be different, because she considers each record to be "a reinvention".
The Grammy-winning singer admitted she has already started thinking about her next LP.
"As soon as one comes out I'm figuring out what the next one will be. It's gotten to the point where each one is a reinvention, which is what I like best. I like it when it sounds new and people don't know where you're going to go next," she told Billboard.
Taylor's last album Red saw her experimenting with new genres, with collaborations with Ed Sheeran and Snow Patrol's Gary Lightbody, and t he 24-year-old plans to work with more music artists in the future.
"I'm really loving collaboration right now. I see it as a bit of an apprenticeship. I want to be around people who love writing songs and have done it for years," she said.
"Every time I'm in a studio I'm learning, like how to build a drum track, and getting a new perspective on things. It's so thrilling to keep learning on your fifth album."
Taylor is up for a Golden Globe nomination for Sweeter Than Fiction, the song she wrote for the Paul Potts biopic One Chance, which stars James Corden as the Britain's Got Talent winner. She admitted she enjoyed writing the song from somebody else's perspective, following tracks about her own experiences.
"I think it's a bit of a relief to take the focus off of my own life. It can get pretty intense writing (personal) details - that's a very vulnerable place to put yourself in. But there's a specific type of thrill you get from that recounting of your life," she said.
"There's a different kind of thrill you get hoping you have accurately portrayed someone else's emotions..."
Source: music.uk.msn.com
Added automatically
993 views