News
Marr reveals city-themed new album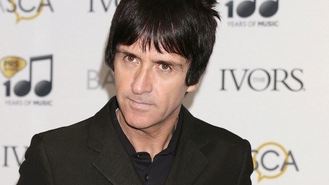 Johnny Marr has revealed he took inspiration from the busy life of the city for his new album Playland.
The former Smiths guitarist revealed details of his second solo album, the follow-up to 2013's The Messenger, to NME, which he said had been written while on the road in the past two years.
Johnny revealed: "The album's main themes are the atmosphere of the city, and the preoccupations of the people who live in them; those preoccupations being consumerism, sex and anxiety, or distraction and transcendence from those things."
While The Messenger was made between Berlin, New York and Manchester, Playland was recorded in London at Tritone Studios near Tower Bridge.
Johnny said: "It was deliberate to work in London. Where you work definitely affects how it sounds and seeps into the music, and I've developed a really good feeling for London in the past couple of years, I like the frenetic atmosphere."
The title was inspired by Homo Ludens, a highly influential book by Dutch historian and cultural theorist Johan Huizinga.
Homo Ludens translates as "Man The Player", or "Playing Man'"
Johnny revealed lead single Easy Money, which will be released on the same day as the album on October 6, is about greed, adding "which is everywhere, but you see so much more in the city".
And there are autobiographical songs on the album, including 25 Hours, which the 50-year-old Manchester-born musician explained is about the realisation he had as a child of having to do something to escape the life that was laid out in front of him.
It features the lyric "Being chased by the priests and the freaks who are hunting me down with attitude/The heat and the bricks are falling on me like doom".
Johnny told the magazine: "I was immersed in the Catholic school system and an oppressive upbringing, looking at a life of having to consort with people that I didn't want to be around. I realised you need to find some escape to break out of that, and that's when I realised art was a way of escaping, in my case the music I was making or wanted to make.
"I would've been eight or nine, and I knew I just needed to escape the life that I was in. I got a sense of what might be my destiny if I didn't do that."
Source: music.uk.msn.com
Added by AutoAdmin
617 views