News
Bono: I may never play guitar again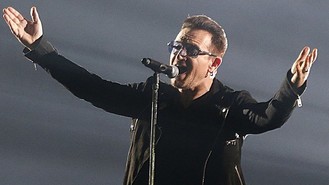 Bono has said he may never play guitar again as he spoke about the "massive injury" that will keep him out of the public eye for much of the first half of this year.
The U2 frontman was badly injured in a cycling accident in New York's Central Park in November, which led to extensive surgery to his left arm and left him with a fractured eye socket.
Writing about the accident and his thoughts on the past year, and his life in general, he explained the extent of his injuries - which left a bone sticking through his leather jacket - meant he has barely been able to move around since he was hurt.
And he said he would need to "concentrate hard" to be well enough for this year's world tour.
On the band's website, he wrote: "Recovery has been more difficult than I thought. As I write this, it is not clear that I will ever play guitar again. The band have reminded me that neither they nor Western civilization are depending on this.
"I personally would very much miss fingering the frets of my green Irish falcon or my (RED) Gretsch. Just for the pleasure, aside from writing tunes. But then does The Edge, or Jimmy Page, or any guitarist you know have a titanium elbow, as I do now? I'm all elbows, I am."
Writing about his wounded pride from the incident, he joked: "I broke my hand, my shoulder, my elbow and my face - but the real injury this year was to my Irish pride as it was discovered that under my tracksuit I was wearing yellow and black Lycra cycling shorts. Yes, LYCRA. This is not very rock 'n' roll."
Bono said he had no memory of what happened during the smash, which led to him missing a U2 show in New York's Times Square a month ago, with Coldplay's Chris Martin and Bruce Springsteen stepping in as guest singers.
He explained that he suffered "a massive injury I can't blame on anyone but myself, mainly because I blanked out on impact and have no memory of how I ended up in New York Presbyterian with my humerus bone sticking through my leather jacket - very punk rock as injuries go".
Bono went on: "The consequences of this freak accident are significant enough that I will have to concentrate hard to be ready for the U2 tour in fitness terms. As a result I have cancelled every public appearance and decided this missive is all the communication I can manage for the first half of 2015, beyond muttering and singing to myself of course."
U2 are due to begin their Innocence + Experience tour in north America in Canada in mid-May, arriving in the UK in October.
Source: www.msn.com
Added automatically
725 views