News
Marilyn Manson felt trapped by public perception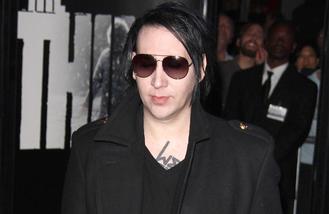 Marilyn Manson used to feel trapped by his public persona.
The 46-year-old singer admits his reputation caused him to turn away from music and try his hand at other forms of creative expression, such as painting and acting, because he wanted to try something unexpected.
Asked whether he ever felt trapped by the perception of him, Marilyn said: "Absolutely. That's why I wanted to quit making music, which led to exploring other avenues, like painting and acting - though that wasn't the reason at the time. I think I was just bored with it.
"I didn't want to be exactly what everyone expected me to be."
The controversial entertainer starred in David Lynch's 1997 film 'Lost Highway' and is currently playing a white supremacist in the hit US TV show 'Sons of Anarchy', but he says the death of his mother was his biggest catalyst for change in his life.
He said: "I feel like the thing I'm best at is being the catalyst for change. But I felt like I needed to change myself.
"It was ... like, I say, I wanted to buy a house. And what brought that on was right before I had to fly to Ohio and see my father because my mother died. On Mother's Day - thanks, mom. I think that was her way of letting go of my father and me.
"Marilyn endured a turbulent relationship with his mother, but revealed they reconciled their differences shortly before her death.
He added to the Guardian newspaper: "I'd made my peace with her the year before, though she didn't really know who I was."
Source: www.msn.com
Added automatically
829 views