News
One Direction plays on in S.Africa as fans mourn Malik's exit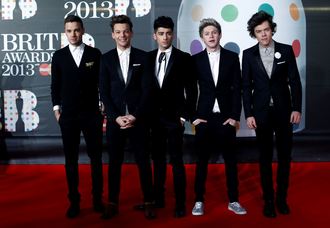 'Our hearts dropped'
Nazeema Ajodha and her daughter Ria booked tickets to see the group play on Saturday night and again on Sunday at the same venue, but said they were distraught not to catch the full line-up.
"When we heard the news, our hearts just dropped," Ria said.
"The band is never going to be the same. Zayn was the one who did all the high notes. He was the best. He was the highlight."
The devotion of 1D's vocal young fans has often been compared to the mania surrounding earlier all-male pop groups like Take That or even the Beatles.
Reports spread of girls threatening to self-harm as news of Malik's exit took over social media, and mental health charities in Britain urged upset fans to seek support.
Among the many dutiful parents in the crowd on Saturday was Anke Gutknecht, who said she had bought tickets 11 months ago for a group of eight family and friends.
"He should have made a go of it and kept together," she said.
"They're young. They've got everything going for them, so I think it was a silly move, but we don't know what the reasons are."
Malik, who flew home from the band's world tour last week suffering from stress, released a statement on Wednesday announcing he had left the band.
"I am leaving because I want to be a normal 22-year-old," he said.
Oratile Mokubyane, who took his 10-year-old sister to the concert, said she was tearful at Malik's leaving.
"Our house is covered in One Direction stuff," he said. "She is threatening to cross his head out of all her photographs."
One Direction heads to Europe next before a string of concerts across the United States.
Source: www.msn.com
Added automatically
1223 views