News
5 Seconds of Summer avoid Christmas traditions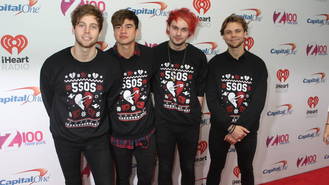 Members of pop rock band 5 Seconds of Summer are not at all interested in giving each other gifts for Christmas.
The Australian group is comprised of Luke Hemmings, Michael Clifford, Calum Hood and Ashton Irwin and although they have grown close over the years, they have consistently managed to avoid buying each other presents for special occasions.
The boys are still close with each other, even though they avoid exchanging presents. As 2015 comes to a close, 5 Seconds of Summer members had the chance to reflect on some of their favourite moments of the year and spending time with each other in Los Angeles seems to have topped the list.
"We all lived together at the beginning of the year in a house in L.A. and we all just kind of bonded and made an album together and that was probably the best part," drummer Ashton said. "We were doing what we were passionate about."
In fact, the musicians love Los Angeles so much, they are considering making the California city their home.
"The best thing about living in L.A. is you get to meet a lot of drummers and you find they share the same mentality and their own unique way of playing," Ashton told the Sydney Daily Telegraph earlier this month (Dec15). "There's things you can get involved with, based around the Sunset Strip, playing covers with other musicians and it's inspiring to hang out and learn off them. Musicians just get each other and that makes me feel a little more sane."
Source: www.msn.com
Added automatically
907 views