News
Peaky Blinders theme tune remade for s4 by Iggy Pop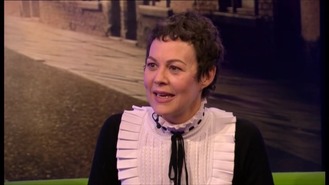 Peaky Blinders is giving its eerie theme song a remix for Wednesday's series four premiere.
The BBC crime drama has traditionally opened with Nick Cave and the Bad Seeds' haunting 1994 dirge 'Red Right Hand', but you might be hearing something a bit different tomorrow night.
Peaky Blinders star Helen McCrory revealed on The One Show on Tuesday (November 14) that creator Steven Knight and his team have enlisted two bona fide music legends to cover 'Red Right Hand'.
"Every year, [the producers] look out for different singers, and who's going to do the cover music," she told The One Show's Alex Jones. "One of the 'Red Right Hand' covers will be from the duet of Iggy Pop and Jarvis Cocker."
McCrory didn't necessarily confirm that Iggy Pop and Jarvis Cocker's 'Red Right Hand' will take over permanently as the theme song, but their version will definitely be heard during the upcoming series. (Apparently mixed in with other cover versions of the track.)
Peaky Blinders previously enlisted PJ Harvey to cover 'Red Right Hand' for its second series, and Arctic Monkeys have famously performed the gloomy track in the past as well.
This new theme tune comes with the addition of even more international stars, including Oscar winner Adrien Brody and Game of Thrones star Aidan Gillen. Maybe Hollywood legends Samuel L Jackson and Julia Roberts will even be joining the cast soon?
Peaky Blinders returns to BBC Two on Wednesday, November 15 at 9pm. Watch a trailer below:
Source: www.msn.com
Added automatically
1038 views