News
Katy Perry kicks inflatable ball into fan's face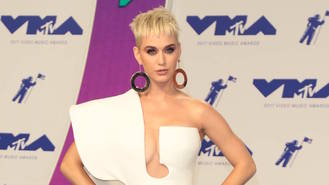 Katy Perry accidentally kicked an inflatable ball straight into a fan's face during her concert in Utah on Friday (24Nov17).
Inflatable balls designed to look like eyeballs are circulated throughout the audience as part of the singer's Witness tour, and she sometimes kicks or punches them back towards the crowd if they start to come close to the stage.
During her recent show in Salt Lake City, Katy got a bit carried away and unwittingly kicked one right into her fan's face. Video footage taken by the fan shows the singer performing an energetic rendition of Roar and deflecting the incoming balls, and launches one straight in the direction of the cameraperson. The ball hits the screen of the phone, making it go black, and the device is dropped to the floor. As it is picked back up, the fan's friend can be seen laughing.
"I didn't realise that she was kicking it right at my face until it was too late," the fan wrote with the footage. "The ball hit me right square in the face and knocked my phone out of my hands. I was so shocked and started laughing hysterically.
"Everyone around me asked me if I was okay and I was just laughing uncontrollably. My phone died shortly after, so once I got home and charged it I watched the video and it was hilarious."
This isn't the first time Katy has had an onstage mishap during her Witness tour; the singer was left stranded up in the air when a prop of the planet Saturn malfunctioned and failed to bring her back down to the stage during a show in Nashville, Tennessee in October. She ended up jumping into the crowd.
Source: www.msn.com
Added automatically
762 views