News
Yong Jun-hyung: K-pop sex scandal sees third idol quit music industry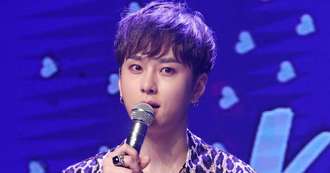 Yong Jun-hyung has become the third high-profile star to quit amid a growing sex scandal for the K-pop industry.
Yong, 29, announced on 14 March that he was leaving the boyband Highlight, after admitting to viewing a secretly filmed sex video.
He said he had received a clip that another entertainer had recorded without the woman's consent, and participated in "inappropriate conversations" about it.
"All these behaviours were extremely unethical, and I was stupid," he said in a message to his 1.7 million followers on Instagram.
"I'll leave Highlight since I realised the seriousness of the issue and don't want it to bring further damage to my fans."
Highlight's entertainment label, Around US Entertainment, said in a statement that Yong was "in a deep state of reflection for his past inappropriate actions, as well as for the disappointment that he undoubtedly caused many due to his immorality".
South Korean police are set to question two other K-pop stars over their roles in the scandal: singer-songwriter and TV personality Jung Joon-Young, 30, who has admitted to secretly filming women having sex with him and sharing the videos, and Bigbang member Seungri, 29, who quit over allegations that he solicited prostitutes for potential business investors.
The case against Jung was discovered during a separate police investigation into K-pop superstar Seungri – who was allegedly a member of Jung's group chat.
Seungri retired to protect the honour of his band and talent agent, he said. He denies the charges against him and has promised to co-operate with police.
According to reports from South Korean media, both singers have been banned from leaving the country.
The scandals have caused uproar in South Korea and for the wider K-pop industry, which has a global fan base and generates billions of dollars for the country's economy.
Source: www.msn.com
Added automatically
722 views