News
AOC responds to Cardi B's request she runs for president with new meaning for 'WAP'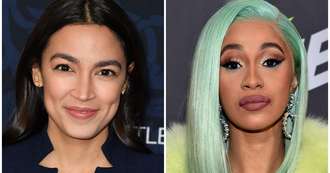 Cardi B has called for Alexandra Ocasio-Cortez to run for president at the next US election.
The rapper endorsed the congresswoman on Twitter, who replied with a potential slogan referencing her new song with Megan Thee Stallion.
In response to a video in which Ocasio-Cortez used Cardi B's song "Bodak Yellow" while delivering a message about healthcare, Cardi B wrote: "She better run for president when she turns 35."
Ocasio-Cortez will turn 35 in October 2024, meaning she will then be able to run for president.
A constitutional law in US means anyone under that age is unable to put themselves in the race.
Ocasio-Cortez replied: "Women Against Patriarchy (WAP) 2020".
The new song has made headlines since its release, with Russell Brand being criticised on social media for "mansplaining feminism" in a video analysis of the video.
In the clip, which wonders whether the track is a "feminist masterpiece or porn", the comedian said he wanted to discuss the "cultural phenomena" surrounding "its use of sexual imagery and female potency".
He asked whether women "achieve equality by aspiring to and replicating the values that have been established by males", which prompted many to call him out on Twitter.
"I'm always in awe of men who pass opinions on what they consider to be feminism," one person wrote on Twitter.
Meanwhile, Cardi B has had a war of words with Tiger King star Carole Baskin, who accused her of animal cruelty for the videos use of big cats.
Source: www.msn.com
Added automatically
179 views