News
Adele expected to make this insane amount per show during Vegas residency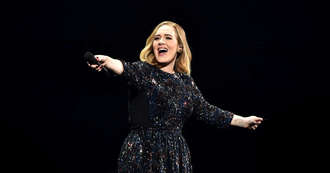 Adele is expected to make an insane amount of money every night during her Vegas residency that is set to run from Friday, January 21, 2022, through to Saturday, April 16, 2022.
Adele's Vegas residency, Weekends with Adele at Ceasars Palace, is set to be a huge moneymaker for the Easy on Me singer who allegedly will be making $679,500 (£500,000) per show. 
The star will be performing twice a weekend for 12 weeks. This means that the star is set to make $16,320,300.00 (£12,000,000) in total for her Las Vegas residency.
An inside source revealed to The Sun, "Adele is the hottest ticket in Las Vegas right now and she's raking in a pretty penny from it."
"She is expected to make over £500,000 per gig thanks to ticket sales alone, even before the merchandising."
"Caesars has rolled out the red carpet to ensure she's treated like the superstar she is."
The tickets for Adele's 2022 Tour range from $1,320 (£970) to more than $16, 940  (£12,460). Not only will the singer make some cash from the sales of these tickets, Adele will also make a profit from the merchandise sold at the venue—which could amount to a very hefty sum.
Adele's Las Vegas residency could have a major impact on her son Angelo but it is thought that the youngster will be staying with his father, Adele's ex-husband Simon Konecki.
Adele's dogs Bob and Freddy could also suffer during her Las Vegas concerts but seeing as their owner will be raking in around $16,320,300.00 (£12,000,000), the puppies can probably handle some time away from her so that they can live as pampered pooches when she returns.
Although Adele's earnings for this tour may seem unbelievably lucrative, singers often make hefty sums when they take on residencies.
Celine Dion reportedly played 427 shows across her two residencies from 2003 to 2007, and again from 2011 to 2019. Reportedly the singer made $476,000 (£350,160) per show for this lengthy residency. A huge amount but still not quite as much as Adele.
Elton John also has a residency at the Colosseum at Caesars Palace which ran from 2011 until 2018. Reportedly the star made $500,000 (£367,810) per performance.
Britney Spears also had a four-year residency at Planet Hollywood Hotel and Casino in Las Vegas. The singer reportedly performed 250 shows and made around $475,000 (£349,420) per show between 2014-2017.
It seems that even when compared to stars of the past, Adele is set to make a crazy amount of money for this Vegas residency. Plus Adele has snagged herself a fantastic deal as she plans to only perform for 12 weekends, as opposed to years on end like other stars.
Photo: provided by Woman&Home
Source: msn.com
Added automatically
519 views