News
Billy Ray: I want to be Miley's pal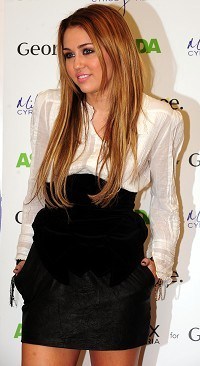 Billy Ray Cyrus has said he "could have been a better dad" to Disney star Miley.
The Achy Breaky Heart singer told Good Morning America he regretted some of his comments in an interview last December, when he blamed Hannah Montana for the break up of his family, and hopes he can still be Miley's friend.
Billy said: "I love Hannah Montana. I love Disney. I wouldn't change anything.
He went on: "What I meant to say, and what I hope I said was... fame can be a dangerous animal.
"And it's a delicate thing. You know, when you get in this industry and ... you strike so hard for that moment. But, fame is dangerous.
"I did kind of approach being a dad as a friend. I was a great playmate. I mean, for teaching [my children] how to camp and build fires and ride motorcycles and four-wheelers, and horses, and all those fun kind of things. I was really good at that.
"As far as sitting down and doing algebra and science, the homework, I wasn't very good at that. So I look back on it and think, 'You know what? Maybe, no doubt, I could have been a better dad'. "
Asked about the picture of Miley with a bong, Billy, 49, said: "Miley has a great heart. She's very intelligent. She will make good choices and she knows right from wrong."
The singer, who has now dropped the divorce he filed against Miley's mother, said that moving forward: "I still want to be Miley's friend, that person she comes to talk to."
Source: music.uk.msn.com
Added by AutoAdmin
1039 views