News
The Wanted's UK radio struggles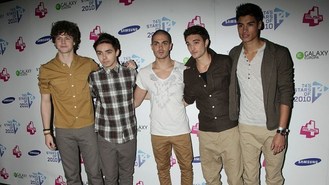 The Wanted have revealed some radio stations refused to play their music because they were a boy band.
The group revealed part of their excitement over their success in America comes from initially struggling in their native UK.
Nathan Sykes said: "Some radio stations in the UK who found out we were a boy band refused to play (our music). They were like, 'We love the song, but we can't play boy bands because we'll lose our credibility'."
Bandmate Max George added: "These are like the most uncool people in the world."
Succeeding in the US is a dream come true for the group. After releasing two top five albums and five hit singles in Europe, their song Glad You Came has spent eight weeks in the top 10 on Billboard's Hot 100 chart.
"In America, before they even questioned who we were, they were like, 'We like the song. Let's play it'," said Jay McGuiness. "And that changed things for us."
The Wanted also said they aren't a typical boy band, mainly because they play instruments. George is on bass, McGuiness plays the drums, Tom Parker plays the piano and Sykes and Siva Kaneswaran are on guitar. But they said they don't reject the label, despite some of the early problems it caused.
"I was nearly ill at the thought of being in a boy band," Sykes admitted. "But then we sat down, had a meeting and we were like, 'No, this is how we want to do it differently. We want to have a new take on boy bands'."
"We love all of our fans, but it isn't specially aimed at boy band fans," McGuiness said. "Our music can cross over to everyone, and we try not to cheese people out too much."
Source: music.uk.msn.com
Added by AutoAdmin
805 views