News
Jones plays piano in the kitchen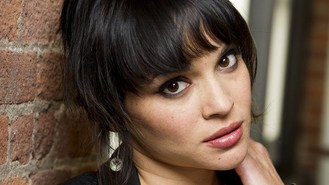 Norah Jones has revealed she keeps a piano in her kitchen so she can tinkle the ivories whenever the mood takes her.
The 33-year-old singer - who worked with producer Danger Mouse, real name Brian Burton, on her new album Little Broken Hearts - explained she never used to play her piano when it was stuck away in her office.
Norah said: "It's nice because I have a music room, but you know it's like the office you never go in or the dining room you never go in or something. So I ended up putting this funky old piano in my kitchen, and it's great."
Norah said she didn't intend for Little Broken Hearts to be a break-up album, it just turned out that way. But rather than a gloomy depiction of a difficult time, the album offered her a surprising catharsis.
"It just kind of came out when we were writing," she said.
"I think Brian is very drawn to darkness in music and I am drawn to melancholy - not necessarily darkness as much as he is. I think when we just kind of put that together, this is what came out.
"I'd definitely just gone through a break-up and I felt like I was coming out really well on the other side... A lot of it's personal, dramatised and tweaked, and both of us were talking about, 'Oh, what if this?! What if that?!'."
Source: music.uk.msn.com
Added by AutoAdmin
896 views