News
Madonna weeps on stage in Berlin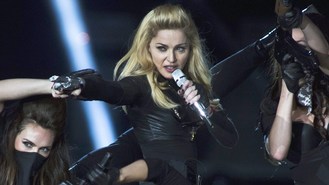 Madonna sobbed on stage as she gave an emotional performance of her hit Like A Virgin in Berlin.
The 53-year-old Queen of Pop was shown in a video posted on YouTube by fans, with tears glistening on her cheeks as she wept during the slowed-down cabaret style rendition of the perky 80s pop classic.
Madonna was wearing just a bra and trousers and clutching a cane as she lay on the floor in despair as she sang the line "your love thawed out, what was scared and cold". She then appeared to break down, sobbing as she leant on her cane for support and fans shouted "Don't cry Madonna!"
But the crocodile tears were apparently all for show, as the attention grabbing star was hauled to her feet by a topless male dancer, and smiled as he dressed her in a corset and let down her hair as she sang, "Like a virgin, touched for the very first time". As he laced her into her corset she made mock orgasmic gasps.
Madonna has raised plenty of eyebrows already on her MDNA world tour.
While singing Human Nature during a show in Turkey she pulled down her bra and flashed her breast on stage. In Rome she pulled down her trousers to expose her bottom - under a G-string and lacy tights - to concert-goers.
But the singer has been warned that her raunchy show will not be tolerated in Russia. Earlier this year, St Petersburg passed a law that forbids the "promotion of homosexuality" and some have advised Madonna to cancel her concert there on August 9. Local MP Vitaly Miranov has said she will be fined if she flashes any flesh on stage.
But the singer said she will not back down and added: "I will come to St Petersburg to speak up for the gay community and to give strength and inspiration to anyone who is or feels oppressed. I'm a freedom fighter. I don't run away from adversity. I will speak during my show about this ridiculous atrocity."
Source: music.uk.msn.com
Added by AutoAdmin
1045 views