News
T in the Park 'awesome' - Emeli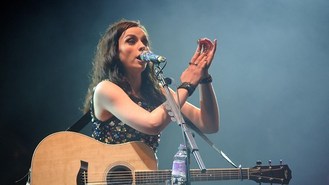 Emeli Sande has hailed T in the Park as "awesome" despite the wet weather and said playing there was "a teenage dream come true".
The star said: "It was awesome today. Wet, but it's such a cool thing to have played T in the Park. It's a teenage dream come true. The stage today was dry and it was amazing. Festivals are just such a good thing - you can relax, you can chill out, it's all about the energy as opposed to making everything note-perfect.
"So I really enjoyed it, just getting a bit loose. Me and the band had a great time. I really feel have broken into festivals now. I've got my festival legs! And I hope with our songs we brought a bit of sunshine today. I would love to come back for the 20th anniversary and do it again, that would be wicked. I would hope it would be dark next time I play."
The Stone Roses, recently re-formed to play a series of high-profile gigs, top the bill for Saturday, while Kasabian are due to headline on Sunday.
Kieren Webster, The View's bassist, said: " I can remember the first time we came here like it was yesterday. Stereophonics were headlining the Main Stage, and we went and saw The Proclaimers and Paul Weller then Noel Gallagher came on with him - and made my life complete!
"We were on first today on the Main Stage and it was a bit nerve-wracking. But we played Glastonbury first a while ago, so it was kinda similar to that. But I couldn't get over how much people were there today, and they really went for it.
"It was raining but there was steam coming off the audience - that's how you know they're having a good time. The crowds here are always amazing. It's the whole Scottishness of it - it just seems to bring out the patriot in people."
"We're hanging around for the Stone Roses today. Can't believe I'm gonna get to see them. I think it's gonna be amazing. I was there when their first album came out. I got it when I was 13 - my mate got me it as a Valentine's present. I never thought I'd get to see them in my lifetime, it didn't look like they were ever getting back together, did it?" he said.
Amy MacDonald, also playing on Saturday, said: "I'm in the King Tut's Tent this year, which I'm slightly daunted by 'cause it's huge. But it's always much more vibey in a tent. You get to hear a lot more. So I'm happy we're in there. I'll be playing a mixture of old and new songs, and trying to keep the set as upbeat and positive as possible."
Meanwhile, organisers hailed a "fabulous start" to the festival despite poor weather conditions. Heavy rain also affected nearby roads, prompting warnings for drivers to take care in difficult conditions. Around 85,000 music fans were entertained on the first night by bands including Snow Patrol and New Order.
Source: music.uk.msn.com
Added by AutoAdmin
695 views