News
Conor chased out of home by fans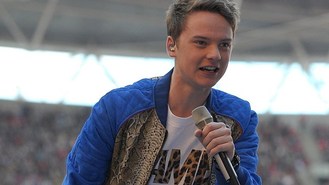 Conor Maynard has revealed he was forced to move house to escape the screaming fans who would chase him every time he stepped out of the front door.
The 19-year-old singer was excited when he moved out of his family home in Brighton to a plush London bachelor pad, but told The Sun he was struggling to even pop to the shops for a pint of milk.
Conor said: "I had to move house recently because some fans found out where I lived. It's not so easy going to get a pint of milk from Sainsbury's when girls are chasing you and asking for photographs and autographs.
"I'm definitely not telling anyone where my new place is, or I'll have to buy a disguise."
And the Can't Say No singer confessed he does get embarrassed by all the attention that goes with being a heartthrob.
He said: "I was in a shop earlier this year and a female fan saw me and screamed so loudly that everyone stopped and looked round.
"It was like someone had died. And the worst thing about it was at that point no-one else knew who I was.
"And the girl was with her nan, who then turned around and started asking everyone who I was."
Source: music.uk.msn.com
Added by AutoAdmin
664 views