News
Kylie Minogue working on new album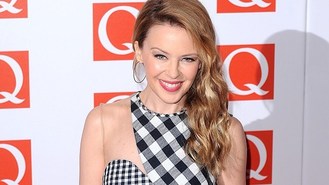 Kylie Minogue has announced that she is already working on a new album.
The pop princess, whose latest offering The Abbey Road Sessions was unveiled just last week, told Yahoo! OMG! that she has already been in the studio.
"I have started work on the next album," she said. "Obviously this year has had me focused on other things but when I had a bit of time, actually in January, that long ago, I took my first steps into the studio. But next year will be the time to really get stuck in."
Kylie, 44, also revealed she would be delving into her own experiences for her new music.
She said: "I said earlier in the year that I would love the next album to embrace my inner Ibiza but I think most of them do anyway.
"It's been interesting this year with a song like Flower which is such a personal song and so different to what people would expect from me.
"But the response to that has been amazing and people have really responded to it being a personal story so I'm keen to find a way where I could marry the two - there's no reason why those kinds of lyrics cannot somehow make it into a dance track."
Meanwhile, Kylie has also said she is thrilled with the response to The Abbey Road Sessions, which features 16 tracks, all radically reworked.
She said: "It seems like all of my fanbase are loving it, from young to old. Let's not say old, say 'more mature'. They really get the album and the concept and I'm blown away.
"That's a dream come true because I've wanted to do something like that for a long time. If it'd have happened any sooner, it might not have worked as well as it has now. For different reasons - I can perform them the way I do now, and I don't know if I'd always have been able to do it - and the audience are ready. Ten years ago it might have been a bit of a leap for them to come with me on an orchestral album. But what a great way to celebrate 25 years in music."
Source: music.uk.msn.com
Added by AutoAdmin
666 views