News
One Direction and Bugg feud rages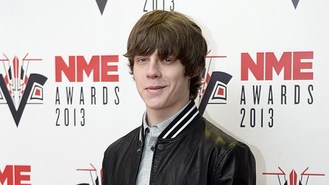 The feud between One Direction and rising star Jake Bugg rages on after the singer made another dig about the globally successful boy band - a quintet he believes should not even be referred to as a "band".
Fresh from winning the Global Success award at last week's Brits, One Direction do not impress the shaggy-haired musician.
Speaking on the red carpet at the NME Awards in trendy east London venue The Troxy, Jake was reluctant to say too much about the boy band as he said he did not want to "wind them up".
But when he was asked if he was pleased the band was nominated for Worst Band, and Harry Styles nominated for Villain Of The Year, Jake said: "I don't know how they can really be considered a band though to be honest. I'm not too sure. I think the more I play on it, it'll wind them up."
When pressed on whether or not the band's huge success and popularity vindicates their position in the music world, he said: "They're there to look good. Music wise? I assume they don't really have a clue.
"We'll just see. They might do. Probably the ugliest one is the best singer. He might know a couple of chords."
The singer, who is nominated in the Best Solo Artist and Best Album categories at tonight's awards, said he did not even know who he was up against and said he finds award ceremonies "boring".
When asked if he thinks he will help One Direction with some songwriting in future, he said: "No. That should be their job, not mine."
The feud started when Bugg criticised the boy band in an interview, expressing his disgust at people referring to them as the new Beatles.
Afterwards, One Direction member Louis Tomlinson tweeted: "Hi @JakeBugg do you think slagging off boy bands makes you more indie?" Also getting in on the action was Niall Horan, who tweeted: "Really buggs me that artists we're fans of, flip on us in the press!"
Source: music.uk.msn.com
Added automatically
1007 views