News
'God-like' Marr savours top award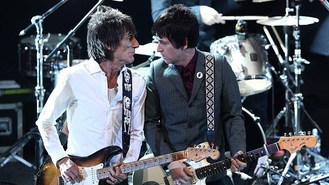 Former Smiths guitarist Johnny Marr was deemed a "god-like genius", but while the musician said it was nice to be appreciated, it was really all about the music.
The musician was named as the recipient of the NME awards' top honorary prize earlier this month and with all eyes on him at Wednesday's ceremony, he said he was pretty "terrified".
On the red carpet before the event in trendy east London's The Troxy, Marr said he was not intimidated until it was pointed out to him that he would be the centre of attention - but was comforted by the fact the rock and roll reputation of the guests may ease his nerves.
"Well until you said that I wasn't so nervous but now I'm terrified. Most of those eyes are going to be drunk out of their face so they're not going to notice so I'll just be in the background being 'god-like'," he joked.
As much as he is flattered at receiving the coveted gong, Marr said he was still focused on the music.
He said: "I'm trying to be a really good musician. It's fantastic to have people really appreciate what you do but the other stuff is not why you do it.
"I'm very grateful for it. It's nice that you're liked but there's loads of music to make. There's records to make and that's why you do it."
He follows acts such as The Clash, Paul Weller and last year's recipient Noel Gallagher in being chosen for the award.
After leaving The Smiths in 1987, Marr worked with acts such as The Pretenders and The The as well as leading his band Johnny Marr + The Healers and guesting on recordings by John Frusciante, Talking Heads and Beck, as well as Hans Zimmer's soundtrack for the film Inception.
Speaking about this year's winner, NME editor Mike Williams said: "Never has anyone been so utterly deserving of the title. Not content with rewriting the history of music with one of the world's greatest ever bands, The Smiths, he's continued to push boundaries and evolve throughout his career, working with some of the best and most exciting artists on the planet."
Source: music.uk.msn.com
Added automatically
1012 views