News
Rizzle Kicks call for end to racism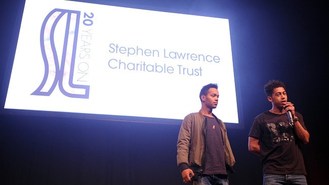 Jordan "Rizzle" Stephens, one half of Rizzle Kicks, has spoken about his hopes for an end to racism.
The singer spoke about his own personal experience of racism at a launch event at Abbey Road Studios for a concert marking 20 years since teenager Stephen Lawrence was murdered.
Jordan, who will be performing with Rizzle Kicks at the concert on September 29, said that on a school visit to Chichester a woman had assumed because he spoke eloquently that he went to a private school, and was surprised to find he went to a state school in London.
He said: "It upset me that a woman would question intelligence based on my skin colour. It would make me more happy than anything for there to be no question about whether race correlated with intelligence, drive or motivation.
"Stephen was an example and the idea is to build as many of those examples as possible for those judgmental idiots."
Jordan said the concert would help explain Stephen Lawrence's murder and the events surrounding it to a younger generation who were not born yet or who were very young when he died.
He said he hoped it would help challenge negative mindsets both in the black community and the wider public.
"What I love especially about this charity and trust is the whole idea of being able to achieve something that you wouldn't ordinarily think you could do," he said.
"A lot of statistics are made based on the fact that some youths are convinced they can't do something they are very capable of doing."
Source: music.uk.msn.com
Added by AutoAdmin
786 views