News
Madonna unveils her tour movie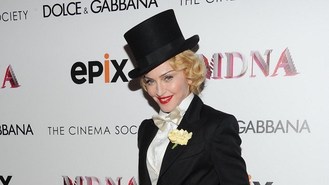 Madonna has admitted there were days when she was so exhausted she didn't want to perform during her recent MDNA world tour.
The 54-year-old Queen of Pop confessed she was even in tears on some nights.
Speaking at the premiere of her new concert film The MDNA Tour, she said: "There's no such thing as not in the mood because the show must go on, right?
"I'm a human being like everybody else, so I would have my nights, my bad nights and I would cry and I would say, 'I don't want to do this'."
The star told a feverish crowd of fans, her dancers, her tour team, socialites and members of press at the event in New York that she wanted her shows to be a relief for those paying to see her.
"I sold the tickets and I can't let my audience down," she said. "Before every show everyone came into my dressing room and we got in a circle and said prayers and 50 per cent of the time I said them and 49 per cent of the time I was crying, usually from over-exhaustion. But there's something about pushing yourself out there when it's pouring rain or you're freezing cold or you don't feel well or something really crazy happened in the world like Hurricane Sandy."
Madonna's tour, which included design help from her 16-year-old daughter, Lourdes, also featured her 12-year-old son Rocco as a dancer. "He was going to go on my tour whether he liked it or not," said the singer. "I was thrilled to see him every night. He gave me a boost of energy. However, he does not look like that. In one year he has grown, he's six feet tall and his voice has deepened. I'm a little bit scared of him."
Madonna also unveiled a secret project - a collaboration with Steven Klein. She showed a one-minute trailer that featured her background dancers and showed the singer being dragged on the floor.
The MDNA Tour premieres on Saturday on the online and cable network Epix.
The concert film will be released on DVD in August.
Source: music.uk.msn.com
Added by AutoAdmin
806 views