News
Katy Perry feeling album pressure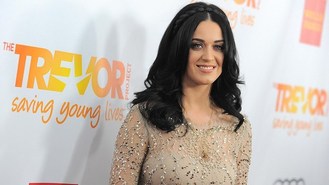 Katy Perry has confessed she is feeling the pressure for her next album after her last record Teenage Dream produced so many number one singles.
The 28-year-old singer made chart history, becoming the first woman to score five number one singles from one album in the US, something previously only achieved by Michael Jackson with Bad. She had seven number ones globally.
Katy, who is currently working on her next album, told US Vogue: "When I am in between records, sometimes I doubt myself. I'll be like, 'Did I just get lucky, or did I mass-manipulate the world into thinking that seven songs were worth a number-one position?'
"And then I go back into the studio and I start writing, and the true essential oil of who I am comes bubbling back up and reminds me that it's always been inside of me, that nobody can take this away no matter what comment anyone makes. It's going to be there because it's what I was born with and it's what I've worked on my whole life."
The Part Of Me singer - who recently spoke about her break-ups from Russell Brand and John Mayer - revealed her new album includes a song called Bad Photographs.
She explained: "I titled it Bad Photographs because the idea is that when people are in a relationship they only take photographs when they are happy, and sometimes when it ends you realise maybe it would be important to take photographs when it's not happy.
"So I have this idea, 'Looking back we should have taken photographs / of all the unhappiness / because now my mind's playing tricks on me / I forget we are not meant to be'."
Source: music.uk.msn.com
Added by AutoAdmin
617 views