News
Brooks pulls plug on comeback gigs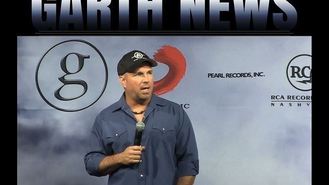 The saga over country music star Garth Brooks' comeback extravaganza has ended with the singer cancelling all his shows in Ireland over a licensing row.
Despite repeated attempts to strike a deal with Dublin city planners, the US musician said there was no hope of an agreement on a five-night run of concerts in the capital.
The comeback spectacular - a record sell-out planned for the end of the month - was thrown into doubt several weeks ago when council chiefs refused a licence for all the shows.
The dispute centred on the venue, Croke Park stadium in the inner city, which is only authorised to host three gigs a year - it reached that quota when One Direction played to crowds in June.
The promoters of the Garth Brooks shows sold out the intial three-night offering and then added another two nights without having the sign-off from the city council, a common practice under Ireland's concert licensing system.
In a statement Garth Brooks finally confirmed it would be a no-show despite being offered the chance to play three nights and two matinees over three days and renewed negotiations seeking to overturn a planning decision.
"To say I am crushed is an understatement," the singer said.
"All I see is my mother's face and I hear her voice. She always said things happen for a reason and for the right reason. As hard as I try, I cannot see the light on this one."
Some 400,000 fans, many from outside Ireland, will now be refunded over the next three weeks.
Brooks had been in semi-retirement for more than a decade and the gigs were billed as a comeback for the singer, one of the best-selling musicians in US history.
But residents close to the stadium complained when Brooks announced plans to extend his initial run of concerts to cope with demand from fans.
That sparked a legal bid by some residents to have the shows cancelled and a rival petition calling for them all to go ahead.
Brooks said he was broken-hearted. "I want to thank the Irish authorities for going the distance for all of us who wanted to share songs and dance together," he said.
Aiken Promotions said it pursued all possible solutions.
"The five-concert Garth Brooks Comeback Special Event at Croke Park is cancelled. No concerts will take place," the company said.
In a message to fans, Brooks added: "I really want to thank all the people around the world that continued to think good thoughts that this would actually happen.
"Most of all, to Peter Aiken and those 400,000 people who believed enough to go through what they have been through to get to this point... I love you, always have, always will.
"I encourage any and all of them that can come see the show, at some point around the world, to bring your Irish flags and waive them proudly at the concerts. I will be looking for you... Garth."
The refunds process will begin on Thursday.
Source: music.uk.msn.com
Added automatically
889 views