News
Lofgren: I'm happy as back-up guy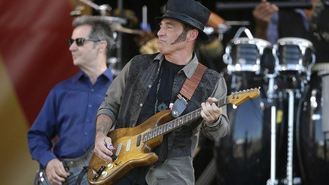 Nils Lofgren has insisted he is happy to be the back-up guy in a band, and not take centre stage.
The guitarist with Bruce Springsteen's E Street Band has forged a relatively unique rock 'n' roll niche through a willingness to sublimate his ego and take on supporting roles with Springsteen, Neil Young and Ringo Starr in addition to writing and recording his own music.
Nils, 63, said: "I understand some solo artists who say, 'I don't want to be a back-up guy, I don't want to play rhythm guitar for anybody. I get it. But that's not me."
But that doesn't mean he doesn't wish he'd written a chart-topping hit.
"Most people who make music have that dream of having the big hit record that goes into heavy rotation, where they play it 18 times an hour until people get sick of you," he said. "We'd all love that. Because it means millions of people are discovering your music."
Fantasy Records is releasing Face the Music, a nine-CD, one-DVD box set of Nils' music from his days leading the Washington-area band Grin in the late 1960s through 20 years of self-produced material on his website.
Thirty years after replacing Steve Van Zandt in the E Street Band, Nils said he still feels like the new guy.
And he revealed the band's welcome into the Rock and Roll Hall of Fame this spring was meaningful, although some members weren't happy that it came 15 years after their Boss.
"It got to be a mantra in the dressing room occasionally," he said. "It almost became like a badge of honor that we weren't in."
Source: music.uk.msn.com
Added automatically
855 views