News
Ed Sheeran reveals his Coldplay inspiration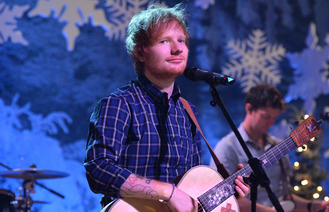 Ed Sheeran's career has been inspired by Coldplay. The 'Thinking Out Loud' hit-maker has revealed the band's lead singer, Chris Martin, and their albums 'Parachutes' and 'A Rush of Blood to the Head' have been critical to his albums '+' and 'X'. He told BBC Radio 2: "I think Chris Martin is really interesting.I based the first half of my career off Coldplay. + is my Para chutes and X my Rush Of Blood so ... the next album will be X&Y."
Ed, 23, recently revealed he didn't do his school homework because he was busy trying to make music. In an extract from his new book 'Ed Sheeran: A Visual Journey', which is published in the Daily Mirror newspaper, he says: "I was not stimulated by school whatsoever. In almost every lesson I thought, 'This is pointless. What am I going to do with Biology or Chemistry?' I was sure that I could find a job in music. I could make tea at Island Records or be a studio hand, or I could end up being a songwriter."
He added: "I didn't do homework and I remember not turning up to school for a long time. I had a lot of detentions and suspensions, which didn't go down well."
Source: www.msn.com
Added automatically
813 views