News
'I'm going to be a grandfather': Billy Ray Cyrus responds to Miley pregnancy rumours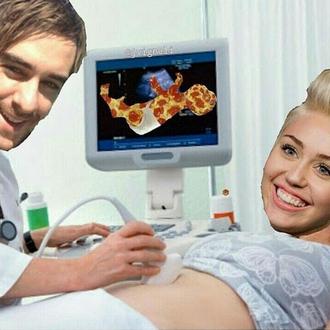 Billy Ray Cyrus sent Twitter into meltdown on Friday when he coyly tweeted that he was going to be a "Papaw." Despite being a father-of-six, fans quickly speculated that he was talking about Miley Cyrus, as the 22-year-old twerking fanatic has proven to be the wild child of the family. As it turns out, however, it was all a big joke, poking fun at the continuous rumours that Miley is pregnant.
"I'm going to be a grandfather. Call me Papaw!" Cyrus tweeted. But just two hours later he shared a photoshopped snap of Miley getting an ultrasound, which revealed she was pregnant with a pizza baby. "Yep... Papaw Cyrus", he captioned the pic. The image was originally created by Miley herself, who pasted her face onto a pregnant woman whilst her best friend Cheyne Thomas played doctor. "The rumors are true...... @cheythom," the Wrecking Ball singer joked in the Instagram caption.
Miley may like to spice things up in the bedroom with beau Patrick Schwarzenegger, but that doesn't mean she isn't practicing safe sex. However, rumours about the star's personal life refuse to die down. A representative for Miley admitted they had grown tired of addressing all of the ridiculous rumours, telling Gossip Cop, "Every day she's either dead or pregnant!"
Billy Ray is going to be a grandad... to Miley's pizza baby (FameFlynet)
Back in January, Life & Style claimed that Miley was "pregnant and dumped." The mag reported that the star was "notoriously lax about birth control," and things between the We Can't Stop singer and her boyfriend of nearly five months were looking rocky.
Miley didn't address the rumours at the time, but things seemed like they were going well with Patrick at the pre-Grammy's party, where the couple looked loved up. Miley also opted for a revealing cut-away gown for the main event, which made it clear to see that there was no hint of a baby bump.
Miley's pregnant! Sort of. (Instagram)
The magazine had also claimed that Miley told Patrick's parents Arnold Schwarzenegger and Maria Shriver that she was pregnant during a family dinner. According to the mag, she "dropped the bombshell of all bombshells," and not everyone was happy about the big news.
An alleged source told the tabloid, "[Miley] asked [Maria], 'Are you ready to have your mind blown?' Then Miley looked into her eyes and said softly, 'You're going to be a grandma.'" According to the source, Maria was left stunned and upset while Arnold was "thrilled" about the news. A second source added, "When Patrick told him, Arnold fired up a cigar to celebrate... Arnold adores Miley without any reservations."
Source: www.msn.com
Added automatically
698 views