News
Miley Cyrus and The Flaming Lips are releasing an album together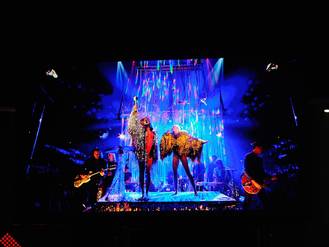 Miley Cyrus and The Flaming Lips have been best buddies for a while, but now, they are taking their friendship up a notch by recording an album together.
The Disney star turned controversial pop queen first chummed up with psych rocker Wayne Coyne early last year when she tweeted him on his birthday. Ever since, his band have joined her on her Bangerz tour, invited her to duet with them on two Beatles covers and even got matching tattoos. This love is clearly the real deal.
"We've just been getting in each other's worlds. We text every day - sometimes three times, sometimes a thousand," Coyne told Billboard, before dropping some hints on what to expect from their new music.
"She does the pop thing so great, so it still feels pop but a slightly wiser, sadder, more true version," he said. "Some of it reminds me of Pink Floyd and Portishead."
Cyrus is yet to comment on her studio sessions with Coyne, whom she has more in common with than some might suspect.
"I saw [Miley] a couple of times where she was overcome with emotion, like when her dog died. That really pierced me," Coyne said. "She realises she's Miley Cyrus but she doesn't act like she's all powerful. She can f**king sing. She can do 100 takes and they'll all be different and good."
Cyrus and the Lips have written and recorded seven songs for the album, many of which were produced at the 22-year-old's Los Angeles home. "Her studio is just a little room with a desk," Coyne revealed. "Miley was sitting there mixing. I was like, 'I can't picture Beyoncé doing this!'
"It's not a ­putdown of Beyoncé. I just don't see her recording her own vocals and then EQ'ing it. It's so punk rock!"
The album does not yet have a title or release date.
Source: www.msn.com
Added automatically
752 views