News
Blurred Lines: Pharrell and Robin Thicke's lawyers file for new trial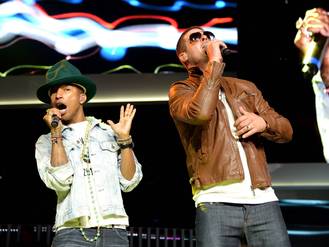 Pharrell Williams and Robin Thicke's 'Blurred Lines' copyright saga continues after lawyers for the pair demanded a new trial.
A Los Angeles jury ruled in March that parts of the smash hit were taken from Gaye's 'Got to Give It Up' and ordered Mr Williams and Mr Thicke to pay $7.4m (£4.8m) between them. 
Their lawyers filed a request for a new trial on May 1, claiming that there were mistakes in the first trial.
The jury was asked by the judge to make its judgment taking only on the sheet music into consideration, but the singers' lawyers claim this was not adhered to.
There was, they said, an improper testimony from a musicologist and insufficient evidence to support the two songs being substantially similar, Billboard reported.
Mr Williams' lawyers also said that the amount the pair had been fined was "grossly excessive and not supported by any admissible evidence."
Read more: Marvin Gaye family try to stop sales of 'Blurred Lines'
Pharrell and Robin Thicke 'sleep well' knowing they 'did not copy Marvin Gaye'
Gaye family claim Pharrell's 'Happy' sounds like 'Ain't That Peculiar'
His half of the fine is more than the profits the singer made from the song. The prosecution's musicologist even said that the pair should pay less than five per cent of the profits – the same amount supposedly lifted from 'Got to Give It Up'.
Gaye's family also filed requests for further legal action on the same Friday. They want the song to no longer be distributed and declaratory relief that Interscope Records and UMG Recordings be held accountable.
 The original trial was preemptive, after the two artists were concerned that they would be sued by the Gayes and were seeking to confirm that it was their original work.
A judge will decide on June 29 whether the case will be re-heard.
Source: www.msn.com
Added automatically
720 views