News
Adele previews new song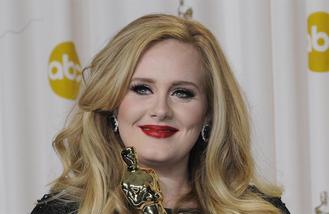 Adele previewed a new song on Sunday (18.10.15).
The 27-year-old singer - whose last release was 2012's 'Skyfall' - surprised fans by teasing a new track during a commercial break for TV show 'The X Factor'.
The advert contained just white text on a black background and Adele's voice could be heard singing the words.
She sang: "Hello, it's me. I was wondering if after all these years you'd like to meet to go over everything. They say that time's supposed to heal you, but I ain't done much healing."
No further information was given.
Adele's last album was the 2011 record '21'.
Meanwhile, Adele reportedly turned down millions to record the 'Spectre' theme song.
The Grammy Award-winning artist - who co-wrote and sang the title track for 'Skyfall' in 2012 - didn't reprise her singing duties for the forthcoming James Bond movie because it would be too hard to beat her global smash.
A source said: "Adele was James Bond himself's first choice. Daniel Craig was really keen and (director) Sam Mendes was 50/50 over whether to use her or a fresh voice.
"Filmmakers were prepared to offer millions but Adele was never up for it.
"How do you top a worldwide hit like 'Skyfall' any way? It was too big a risk."
The 'Rolling in the Deep' hitmaker is currently focused on the launch of her much-anticipated third studio album and recently met up with One Direction's tunesmith Jamie Scott to get some advice.
A source added: "She has a mass of material but can't settle on what. She spent a day with 1D songwriter Jamie Scott but that probably won't see the light of day either."
Source: www.msn.com
Added automatically
702 views