News
Miley Cyrus: 'I'm never going to live down Wrecking Ball video'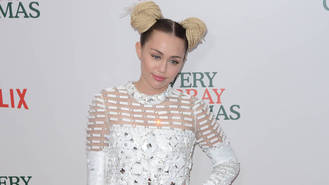 Miley Cyrus fears she will always be remembered for swinging around naked in the video for her song Wrecking Ball.
The singer released the single in 2013 and the song quickly became a memorable hit for the 24-year-old. In the video, Miley rides a wrecking ball naked and also licks a sledgehammer.
The young star is grateful for the success of the track, but admits she regrets her concept for the video.
"That's something you can't take away, swinging around naked on a wrecking ball lives forever," she tells The Zach Sang Show in a recent interview. "Once you do that (in the way) that I did, it's forever. I'm never living that down. I will always be the naked girl on a wrecking balI... (And) I just licked the sledgehammer."
"I should've thought (about) how long that was going to follow me around," she adds. "My worst nightmare is that being played at my funeral... 'We'll always remember Miley' and then that."
Cyrus previously defended the concept of the video after it stirred up controversy upon its release, insisting she didn't understand why her saucy antics were "a big deal" as she was just "having fun". Cyrus also explained the video was more emotional than the song.
"If people get past the point that I'm naked and you actually look at me, you can tell I look more broken than even the song sounds... If people can take... their minds off the obvious and go into their imagination... and see what the video... really means, it is so vulnerable," she said in 2013. "Actually, if you look at my eyes I look more sad than actually my voice sounds on the record.
"It was a lot harder... to do the video than it was to record the song. It was much more of an emotional experience."
Source: www.msn.com
Added by AutoAdmin
224 views