News
Mark Ronson's wife files for divorce - report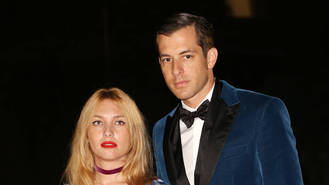 Mark Ronson's wife Josephine De La Baume has reportedly filed for divorce from the DJ after six years of marriage.
The French actress and model has submitted legal documents to end the marriage, listing the official separation date as 21 April (17). She is asking for spousal support from Mark, according to E! News.
The pair's 2011 wedding in Aix-en-Provence, France was a star-studded affair, with guests including Kate Moss, Lily Allen and Mark's sisters DJ Samantha Ronson and fashion designer Charlotte Ronson.
Previously revealing the importance of family, Mark told Britain's The Guardian newspaper, "Family is the anchor for everything. If I realise that I've gone three days without talking on the phone to my sister Charlotte in New York, I need to call her. And no one can annoy you like your family. They have the power to push buttons and wind you up more than anyone else on the planet - but no one else can make you feel so enriched from being in their company."
Prior to his Uptown Funk hit with Bruno Mars, Mark was perhaps most famous for collaborating with the late Amy Winehouse, who died just two months before he and Josephine tied the knot. The pair made sure to remembered the singer by leading a toast in her memory at the wedding.
"Amy was a great friend of both Mark and Josephine and they would have been thrilled to have her with them at their big day, but sadly it wasn't to be," a source told Us Weekly at the time. "Amy would definitely have sung one of her hits at the wedding if she were still alive, as she meant so much to both of them."
Source: www.msn.com
Added automatically
631 views