News
Jessica Simpson's father Joe now cancer free after months of radiation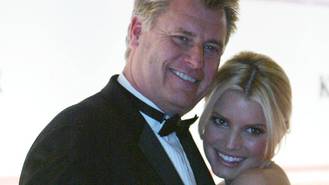 Jessica Simpson's father Joe is now cancer free.
The 59-year-old father of Jessica and her singer sibling Ashlee was diagnosed with prostate cancer last September (16) and went public with the diagnosis in November, revealing he had already undergone surgery to combat the disease.
He then began having radiation sessions in February in a bid to get rid of the cancer completely, with a representative for the Simpson patriarch confirming to People.com on Wednesday that he is now officially cancer free.
Joe is believed to have been undergoing once a week radiation treatments, with a source telling Us Weekly at the start of his journey: "He feels fine, he's getting through it and still working. It's all scheduled once a week.
"He's super optimistic. Doctors are hopeful that this will take care of it and be the last step, and he will hopefully then be in remission and cancer-free. Joe just says he feels like it's like going to get a check-up."
Despite the positive news, former pastor-turned-photographer Joe previously told In Touch Weekly magazine that regardless of whether or not he beat his battle against the disease, it would lead to a lifelong change.
"As everyone knows, all it takes is one cell to multiply," he explained. "Right now the outlook is great, but no matter what, I have to monitor this for the rest of my life. Once you have cancer, you have it - but I will get through this."
Joe, who used to manage the careers of his singer/actress daughters, also credited the girls and his extended family for supporting him through his health struggles, adding: "They are my biggest support. The cancer continues to be monitored, and I am doing everything the doctors are telling me to do. I'm looking for a miracle."
Source: www.msn.com
Added automatically
578 views