News
Lil Wayne 'threatened to kill bus driver'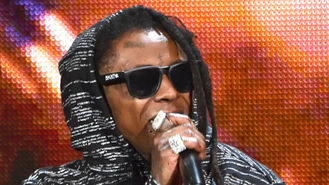 Lil Wayne has been accused of threatening to kill a bus driver.
The 32-year-old How to Love rapper is currently beset with legal problems, after he brought forth a multimillion dollar lawsuit against his record label Cash Money in January.
And according to TMZ the star was slapped with a civil case by tour bus driver Mark Jones, who he hired to transport him from place to place during his 2014 series of summer concerts. Apparently the driver has accused Lil Wayne, real name Dwayne Michael Carter, of "threatening to pistol whip him, 'whip [his] ass' and finish the job by killing him".
In legal documents obtained by the outlet, Jones claims he stopped the vehicle around 11:30pm at a gas station to refuel while the entourage were on their way to a gig a in New York state. But the claimant insists Wayne got incredibly agitated by the pause in their travel schedule.
"Wayne became irate and started cursing, to the point the driver became scared and continued driving without refueling," the website writes.
Jones claims he got back on the road fearing for his life after Wayne "came at him with a gun" and "cocked it at close range".
Jones is allegedly suing the hip hop musician for false imprisonment, emotional distress and assault.
This isn't the only court case Wayne has to worry about currently, as his Cash Money lawsuit is still active.
It was recently speculated the star withdrew claims money was withheld from him on the last two albums he made with the label.
But his lawyer confirmed earlier this month the case is still very much alive.
"We gave them until April 6th to file an answer," Ron Sweeney told Rolling Stone. "[Cash Money] said they were going to challenge the venue, so at that point, it was a waste of time and money, so we all agreed that we would dismiss the action [in New York] and Wayne and [his record label] Young Money would re-file in New Orleans."
Source: www.msn.com
Added automatically
620 views