News
Joe Jonas goes undercover as taxi driver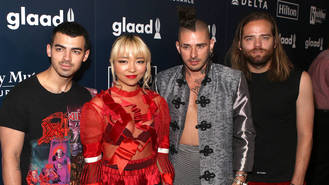 Joe Jonas and his DNCE bandmates surprised passengers in Los Angeles by going undercover as taxi drivers.
The Cake by the Ocean hitmakers took part in Undercover Lyft, part of car service Lyft's YouTube series, in downtown Los Angeles recently and managed to get through most of the drives without the passengers figuring out who they were.
Wearing sunglasses and a flat cap, Joe would pick up each passenger and use a fake name and drop some hints about his true identity by saying things like, "I was in a band and we broke up" and "I'm trying to be a singer" and joking, "I'm not even a Lyft driver, I just stole this car".
During the trip, he picks up his DNCE bandmates Cole Whittle, JinJoo Lee and Jack Lawless, and on some occasions they are wearing matching clothes. They bring percussion instruments along with them and Joe pretends to be surprised by saying, "You have a tambourine!"
He later gets the passengers involved in some singing by asking, "If you guys don't mind, I've got an audition later today, I've gotta do some vocal warm ups but I get nervous doing it alone, would you guys mind joining me?"
But rather than show off his singing skills, he makes random noises and pretends to be unable to sing songs like Twinkle Twinkle Little Star.
One passenger notices who he is straight away, saying, "you look like Joe Jonas" but he deflects by replying, "I get that all the time". Most don't recognise them though, even when DNCE's new song Kissing Strangers begins to play.
At the end of the segment, the band finally reveal their true identities to the shocked passengers, with one telling the cameras, "My heart is pounding".
Demi Lovato and DJ Khaled have previously taken part in the segment.
Source: www.msn.com
Added by AutoAdmin
176 views