News
Nick Carter would support his son's boy band dream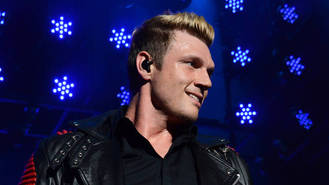 Nick Carter would support his son if he wanted to follow in his footsteps by joining a boy band.
The 37-year-old has been in the industry since the tender age of 10, and hit the big time with group Backstreet Boys. While the group are currently enjoying a new lease of life thanks to a residency in Las Vegas, Nick's personal life is also keeping him busy - namely his 14-month-old son Odin.
When it comes to raising the tot, whose mother is Nick's wife Lauren Kitt, the singer is "already expecting" the day that Odin turns round and says he wants to be in a pop group.
"If he comes to me and says that (he wants to be in a boy band), that'll be one of those things where I've just gotta support him and guide him in the right things to do," Nick told Entertainment Tonight. "Because that's the thing about the entertainment business, it can be dangerous at times, and if you're not supported by your family, you can get in trouble."
He is now turning his talents to the small screen, acting as an "architect" on upcoming TV talent show Boy Band. Nick, former Spice Girls star Emma Bunton and Grammy Award winning producer Timbaland will be hunting for talented singers who will form part of America's next big male singing troupe.
And his time with the Backstreet Boys means that Nick is well aware of just what factors are required to make a successful group.
"The bad boy, the young one, the older one," he listed when asked what he's looking for to make up the band. He also added that his own role in the Backstreet Boys has "evolved" over the years.
"I guess I kind of started pretty, then I went a little bad," he smiled. "And then I kind of got a little more mature, and so I'm a little more responsible now. I went through all the phases of every single boy. I guess that's me."
Source: www.msn.com
Added by AutoAdmin
195 views