News
Halsey slams Iggy Azalea for her 'complete disregard of black culture'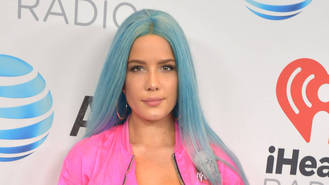 Halsey has criticised rapper Iggy Azalea for having a "complete disregard" for black culture.
The New Americana singer, real name Ashley Frangipane, recently released her second solo album Hopeless Fountain Kingdom which features collaborations with Fifth Harmony's Lauren Jauregui and Migos star Quavo.
During an interview with The Guardian, she said wouldn't team up with just any artist, and cited Australian rapper Iggy Azalea as one person who would never feature on a Halsey record.
"There's a lot of people I wouldn't put on my record. Iggy Azalea: Absolutely not," she said. "She had a complete disregard for black culture. F**king moron. I watched her career dissolve and it fascinated me."
Halsey isn't the first person to accuse Iggy of appropriating African-American culture with her music - Iggy has also had feuds with rappers Azealia Banks and Q-Tip about her position in the hip-hop industry in recent years.
However, this week (beg19Jun17), Iggy reached out to the 212 star on social media and suggested they end their long-running feud.
In a lengthy message on Snapchat, she wrote: "Call me crazy but girl, I don't hate you. I don't know you to hate you... I don't agree with many of your opinions but honestly, at times I empathize with you as a creative Gemini woman.
"I wish you had spoken to me before deciding I was out to get you when we first came on the scene... As a 27 year old adult woman just know: I wish you well from one human to another and joke collaboration or not as adults we should move past trivial beef with strangers."
Azealia responded by saying she was hoping to meet with Iggy to have a candid discussion with her "about the world's biggest sickness, racism."
Source: www.msn.com
Added by AutoAdmin
286 views