News
Former Pussycat Dolls member likens time in group to 'prostitution ring'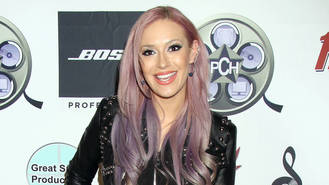 Former Pussycat Dolls member Kaya Jones has compared her time in the group to being in a prostitution ring.
Kaya, who recorded a few demo tracks with the band before leaving in 2004 to pursue other projects, took to Twitter on Friday (13Oct17) to allege members of the girl group were told to sleep with men on demand.
"My truth. I wasn't in a girl group. I was in a prostitution ring. Oh & we happened to sing & be famous. While everyone who owned us made the $," she began her lengthy rant.
"How bad was it? People ask - bad enough that I walked away from my dreams, my bandmates & a 13 million dollar record deal. We knew we were going to be #1."
Calling out the "den mother" of the group without naming names, she continued: "I want the den mother from hell to confess why another 1 of her girl group girls committed suicide? Tell the public how you mentally broke us.
"To be a part of the team you must be a team player. Meaning sleep with whoever they say. If you don't they have nothing on you to leverage…Yes I said leverage. Meaning after they turn you out or get you hooked on drugs they use it against you. Correct. Victimizing the victim again."
Her tweets then took a disturbing turn, as she alleged her life had been threatened if she spoke out about the alleged sexual abuse.
"I personally have been warned if I tell I will... you know end up dead or no more career," Kaya tweeted.
"I told press in Hollywood about my abuse & they did nothing... In 2004 I told hollywood executives, 2005-2006 I told press. In 2011 I spoke up again. Hope you can hear me now Media in 2017! Way to go. I wonder if any other victims kept a journal like I did? Oh yes I kept a journal with timelines."
A rep for the Pussycat Dolls has yet to comment on the allegations, however former member Asia Nitollano slammed Jones' version of events.
"Who is Kaya Jones? Lol She was not apart of The Pussycat Dolls the recording group so I do not know her... But judging from google she looks like she just wants her 15min of fame. (Side note... it says she's a Trump supporter... but yet she's Canadian, which means her vote doesn't count!!!! )" Asia tweeted on Saturday.
Before becoming a pop group, made up of Nicole Scherzinger and Ashley Roberts among others, the Pussycat Dolls were a dance ensemble, founded in 1995 as a burlesque troupe.
Source: www.msn.com
Added automatically
509 views