News
Kenny Rogers all set to retire after Nashville honour on the eve of farewell gig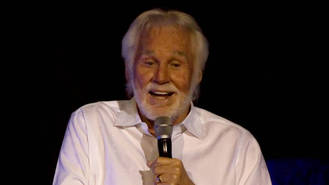 Kenny Rogers insists he's all ready for retirement after ticking a Music City Walk of Fame induction off his bucket list.
The veteran country star will end his career with a massive, star-studded farewell concert in Nashville, Tennessee on Wednesday night (25Oct17), and on Tuesday (24Oct17) he was in the city to receive a major honour.
Surrounded by family, friends and hundreds of fans, The Gambler singer took his place alongside pals like Dolly Parton and legends Elvis Presley and Johnny Cash on the Music City Walk of Fame, and admitted he had always dreamed of being part of the pavement salute to country's biggest stars.
"This was, believe it or not, my last thing on my bucket list," Rogers said. "I've been doing really well, and I realised that I really didn't have Nashville acceptance. I wasn't country in the sense of Johnny Cash and those guys, and I knew it... So gradually, music caught up to me."
Rogers clearly had life after music on his mind as he accepted the induction, talking about his twin teenagers, who sat in the front row during the ceremony.
"They said, 'Dad, what are you going to do when you quit working?'" the singer smiled. "I said, 'I don't know. I thought I'd come home and spend all my time with you guys'. And they both went, 'Oh God!' So it may not have been a good idea, but I'm excited about trying."
Rogers, who was inducted by his frequent touring partners the Oak Ridge Boys, will say goodbye to fans and famous friends alike at the All In For The Gambler: Kenny Rogers' Farewell Concert Celebration at Nashville's Bridgestone Arena on Wednesday.
Parton, Lionel Richie, Reba McEntire, Chris Stapleton, and Lady Antebellum are among the acts who will salute Kenny at the show.
Source: www.msn.com
Added automatically
994 views