News
Nikki Sixx calls on President Trump to tackle opioid crisis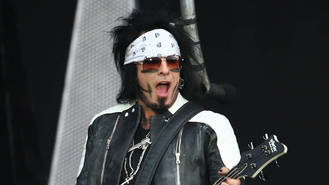 Nikki Sixx has called on U.S. President Donald Trump's administration to genuinely tackle the opioid crisis.
The Motley Crue bassist has penned an open letter, which was printed by The Los Angeles Times on Friday (29Sep17), in which he condemns the President's proposal to cut the 2018 Medicaid budget, while at the same time making a "show of concern" for those with opioid addiction.
"Opioid abuse isn't just making addicts sick, it's making America sick," he stated. "Now President Trump wants to slash the 2018 Medicaid budget. He's suggesting deep cuts in funding for treatment, prevention, and addiction research."
Accordingly, the 58-year-old called on Congress to approve a 2018 budget that provided sufficient funding for Medicaid.
He also claimed that even though Trump showed concern when he convened a commission in March charged with studying the problem and declared opioid addiction a national emergency, he had failed to file the proper paperwork and nothing had been done to help the situation.
In addition, Nikki alleged that while Trump had told "lies" and blamed Mexico and China for prescription drug addiction problems, in actual fact, the problem was due to budget cuts and "U.S. drug manufacturers and overzealous doctors pushing prescription painkillers."
He also took the opportunity to reflect on his own battle with alcoholism and drug abuse earlier in his career, as well as his near-death experiences with heroin.
"Heroin nearly killed me. As a matter of fact, it did: For two minutes in 1987 I was pronounced clinically dead from an overdose," said Nikki, adding that this experience didn't make him a "policy expert" but it qualified him to "judge the way the United States was handling its latest addiction crisis.
Source: www.msn.com
Added automatically
524 views