News
Demi Lovato couldn't listen to her own music while making love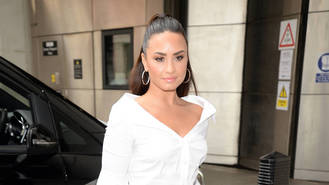 Demi Lovato has ruled out ever using her own music as a soundtrack while she is making love.
During an interview with the BBC, the 25-year-old singer was asked about what tunes she would prefer to listen to while getting intimate with a partner.
When she replied that The Weeknd would be her choice, the interviewer commented that when Usher had been asked that question, he had revealed that his son had been conceived to his own music.
"Oh. Wow. That's creepy. I can't say I listen to my own music while I'm… I'm doing it!" Demi laughed.
Demi recently hinted that she will open up more about her personal life and her current relationship status in her YouTube documentary series, Demi Lovato: Simply Complicated.
She has dated stars including Wilmer Valderrama and MMA fighter Guilherme Vasconcelos, and admitted getting in touch with a fellow celebrity she's crushing on is easier than if they weren't famous.
"It's easy and it's difficult, too," Demi said when asked about dating in the public eye. "But it's kind of nice because if you find somebody attractive, you can just hit them up or, like, slide into their DMs (direct messages) and be like, 'Hey, what's going on?'"
Demi has just released her new album Tell Me You Love Me, in which she uses her tunes to touch on a variety of issues in her personal life, including her split from Wilmer after six years of dating and the lasting effects of her biological father's absence on her life.
Asked if she had intended the record to be her most personal to date, Demi mused: "It just came out in the writing. I would go into the studio with an idea based off of a personal experience."
Source: www.msn.com
Added automatically
537 views