News
Ed Sheeran gives up alcohol after bicycle accident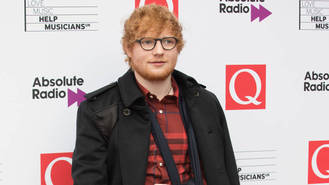 Ed Sheeran has given up alcohol in a bid to speed up the healing process following his recent bicycle accident.
The 26-year-old singer attended the Q Awards in London on Wednesday night (18Oct17), and while he was in good spirits at the ceremony, he told The Sun that he wouldn't be partaking in drinking while at the notoriously boozy bash, because doctors had told him it could impair the healing process after he fractured his right wrist and left elbow.
"Apparently if I drink it slows the healing down so I'm not drinking but I've got (to film) The Jonathan Ross Show so I can't drink anyway," he told the outlet.
It was initially reported that Ed had been hit by a car while riding his bike. However, the Shape of You star set the record straight about what had actually happened as he told reporters he had simply fallen off his bike, before getting up and cycling home. It wasn't until the next morning that Ed realised he had done some damage in the fall.
"I got up and cycled home then went to bed and woke up in the morning in a lot of pain and then went to hospital," he explained. "I didn't even know anything was broken until the next morning."
Ed has been forced to cancel several live gigs in the wake of the accident, telling fans on Twitter: "A visit to my doctors confirmed fractures in my right wrist and left elbow that will leave me unable to perform live concerts for the immediate future. Sadly, this means that the following shows will not be able to go ahead as planned: Taipei, Osaka, Seoul, Tokyo and Hong Kong."
He has cancelled all dates up until 7 November, when he is due to take to the stage at the Mall of Asia Concert Grounds in Manila in the Philippines.
While Ed is more than a little annoyed that the incident has affected his live tour schedule, there's another aspect of his injury that is winding him up too. Admitting "I can't type", the redheaded star revealed he has had to send an out of office autoreply to his nearest and dearest because he's unable to send text messages or emails.
Source: www.msn.com
Added automatically
622 views