News
Tina Turner comes out of retirement to support West End musical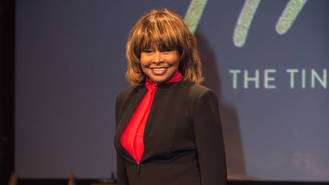 Tina Turner has put an end to her retirement to promote a new musical about her life.
The legendary singer retired from the stage and spotlight in 2009 after completing her final concert series, the Tina!: 50th Anniversary Tour, but the 77-year-old has returned to the public eye to support theatre director Phyllida Lloyd's new biographical show Tina.
During the unveiling of the musical at The Hospital Club in London, England on Tuesday (17Oct17), Tina admitted she had mixed feelings about returning to the limelight.
"I didn't want to do it," she confessed of her reluctance to withdraw from retirement. "This is going to be a little difficult. I don't (want this to happen). I don't need a musical, I don't need another show."
The What's Love Got to Do With It hitmaker has simply enjoyed being retired far too much these past seven years to give it up.
"I am sure you all want to know what I have been doing in retirement for the last seven years. I am very excited to be a part of this (but) this took me out of retirement," she shared. "Retirement is wonderful, it's easy to sleep long (hours), (to) do what you want, decorate the house two (or) three times. Easy things that you dreamed about when you were working."
The musical details Tina's life, including her marriage to abusive ex-husband Ike Turner in the early years of her career from 1962 to 1978.
"There were many times when I got knocked out (by Ike)," she recalled. "Sometimes I stood on stage and had pain that you cannot imagine. Black eye, swollen nose. But you had to plough through it, you had to suffer through it.
"We weren't cancelling shows because we needed the money. It was plane, bus, car. The stage. Partying every night. Sometimes it was what you have to do."
Meanwhile, the veteran performer has heaped praise on actress Adrienne Warren, who portrays the star in the musical.
"It's really interesting finding another Tina. I have found one (in Adrienne)," she gushed. "She can sing. She will do the dancing. She is pretty. I told her she looked like my sister, but prettier."
Tina: The Tina Turner Musical will open at London's Aldwych Theatre in the spring (Apr18).
Source: www.msn.com
Added automatically
573 views