News
Gwen Stefani and Blake Shelton's life is a daily musical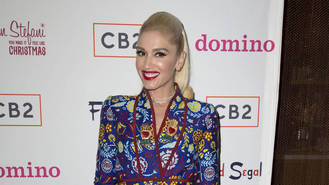 Gwen Stefani and Blake Shelton use song to communicate with each other.
The 48-year-old singer started dating the country star in November 2015, and their relationship has since gone from strength to strength.
Both are hugely successful in their own fields, and Gwen has now admitted that their love of music extends into their life at home.
"We're like we're in a musical constantly and we just sing," Gwen laughed as she appeared on kitchenware company Williams-Sonoma's Facebook Live on Monday (11Dec17). "We actually don't talk to each other, we just sing like a musical and everything we sing is like 'I love you' - like it's pretty much the whole time."
Gwen also showed off her skills in the kitchen as she appeared in the Facebook Live video, baking an apple parmesan pie. And when it comes to how she and Blake will celebrate Christmas, the former No Doubt frontwoman revealed they always go Italian for the festivities.
"(Last year) we did homemade gnocchi, potato gnocchi, we did lasagna, which is my mom's recipe, which is the reason why I say it's like a '50s recipe because you use like a packet so I know that's like illegal for you guys (at Williams-Sonoma). But it's my mom's recipe from my grandma that is not Italian, so anyways, it's still the family recipe," she smiled.
Gwen and Blake both have a lot to look forward to in 2018, including the news that the blonde beauty will be closing out a week of star-studded Super Bowl performances at Club Nomadic at Mystic Lake Casino Hotel in Minnesota. Gwen will take to the stage on 4 February - the same day as the Super Bowl itself - following previous headliners The Chainsmokers, Ellie Goulding, DJ Kygo and Florida Georgia Line.
Source: www.msn.com
Added automatically
606 views